Great Wall Creek Forest
活動會場坐落在風景如畫的山谷裡:長城溪森林,有小橋,流水及美麗古老的建築物,賽事結束後大家可以坐在小溪旁,玩水及傾聽潺潺流水聲,盡情享受炎熱的夏日,您的家人在此等待也不會覺得枯燥乏味,附近有很多美麗景點可以走走。
Race venue is situated in picturesque valley (長城溪森林 Great Wall Creek Forest) with river and beautiful ancient places. It will be great sit in river after race in summer. It is beautiful place for family time in hot summer day: Your family will not bored when wait for you. Order BBQ is possible here.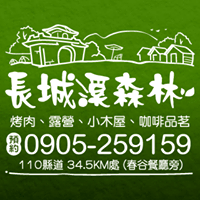 Location
The Great Wall Creek Forest is situated 13 km from Taipei Xindian on Ankeng Road 110 on 34.5th killometer (https://goo.gl/maps/CDjJL).
Accessible by public bus NO. 779 to bus stop from Xindian to Ankeng 13 (安坑里(安坑13號)[新巴士])
TBT venue and parking
Parking #2 is not available!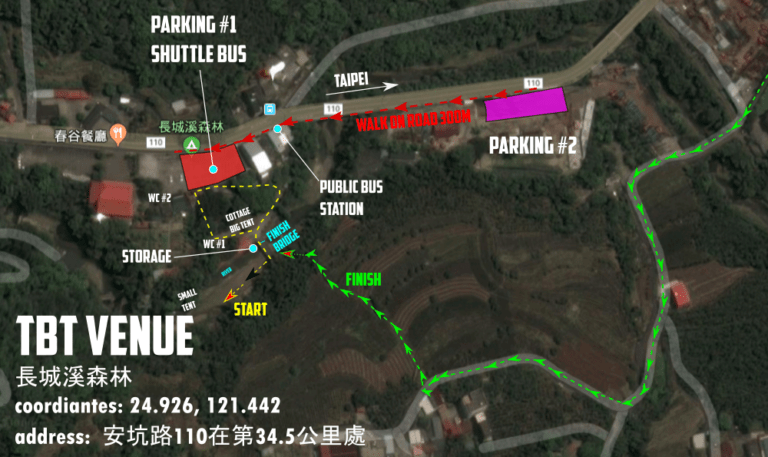 Accommodation 住宿
In TAIPEI center- around center book by your self by some booking provider (eg. Agoda.com), more tips for overseas in this section. Live in Taipei center and take shuttle bus is recommended for overseas participants.
notice: Do not contact race venue owner for reservation of accommodation in race weekend, but organizers Beast Runners who rent whole areal for these days. You may contact them for BBQ.
一人位600元,一間可容納5-6人,考量各人衛生習慣,小木屋內無提供寢具,請自備睡袋。

小營帳空間 ,台幣800元 ,請自行攜帶帳篷及睡袋。

大

營帳空間 ,台幣1200元 (木頭棧板300×300公分),請自行攜帶帳篷及睡袋。
600NTD for space in cottage for 4 – 6 person (own sleeping bag and mat necessary).
800NTD space for small or middle size tent (own tent and sleeping bag necessary).
1200NTD space for big size tent on wooden platform 300x300cm (own tent and sleeping bag necessary).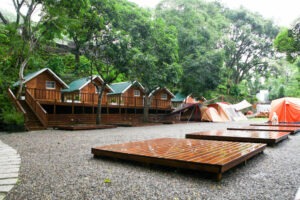 Notice:
Spaces are very limited
It is prohibited book more spaces in cottage for one person, have to share with other runners.
Please do not let your personal things in cottage and pack your tent before start of race!
Space in cottage or for tent will be possible order in TBR eshop separately.
Additional things to consider:
Overseas runners: we recommend you arrange accommodation in Taipei City Center and take our shuttle bus in the early morning. (Finding your way to the venue the evening before the race might not be too easy)
For locals living in Taipei: we also recommend taking our shuttle bus in the early morning or booking small hut/tent space in our e-shop. LINK
The parking space is limited and we will charge a minimal fee of 100NTD/car. We strongly encourage everyone to be green and carpool, use public transportation or our shuttle buses.
Our shuttle will leave FOR Taipei approximately every hour, with the last ride estimated at around 20:00. Afterwards we recommend carpooling in taxis with other runners equally exhausted but happy
另外提醒選手注意事項:
海外選手:建議在台北市區住宿,且清晨搭接駁車至會場【公共交通不方便】
台北人:建議一大早搭接駁車或者訂露營小屋/帳篷位子LINK
關於停車位:因車位有限,建議大家共乘以及為了環保–搭公車或者搭我們安排的接駁車。停車場車位要收100NT的票費喔J
接駁車往台北大約每小時一次,最後一趟晚上8點左右。以後就跟其他疲倦朋友/選手搭計程車J
BBQ
To order BBQ for race day contact Great Wall directly:  https://www.110bbq.com/
Or contact by phone 0905-259-159 and make order.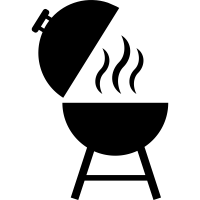 Parking
活動會場外面有大停車場(台幣100元/ㄧ台車)
停車位空間有限,請儘量與朋友們一起搭乘。
Areal include parking space 100NTD/car.
Spaces are limited, please share your car with other runners! Save space on parking space!
Second parking space is located 250m before venue.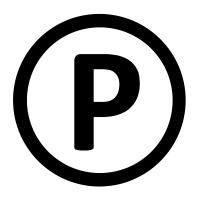 IMPORTANT: DO NOT PARK ON MAIN ROAD (your car will be removed by police)
Accommodation 住宿 in Taipei center
We recommend find accommodation in Taipei center